The Do's and Don'ts of in-home speech therapy
Being both an SLP AND a mother to a child with a severe speech disorder, I have this unique and sometimes bizarre perspective; that perspective, of course, being that I now intimately understand both sides.  That being said, I think parents/my clients, typically feel more comfortable telling me things parent to parent vs. parent to SLP.
As a mother now to a child with apraxia, I have a new appreciation for the "other" side.  This post is targeted for all the amazing and well-meaning SLP's out there, who may not understand some things because they haven't been on the parent side.  Here are my top five Do's and Dont's for in-home therapy.
Don't spend therapy time talking about your wedding, the death of your dog, or your friend's miscarriage. Do spend the therapy session focusing on the child and reserve personal conversations for a time outside the therapy session.
Many times, our client's mothers may have a lot in common with us.  However, literally every minute of therapy is as important to a parent as it is to the child.  I remember watching the digital clock in the first speech room Ashlynn was in.  If the SLP had to use the bathroom before seeing Ashlynn, I would of course understand; but honestly, I was staring at the clock hoping she didn't waste too much of Ashlynn's time.  I currently have a client who put those minutes into dollars.  For a 30 minute session at $50,  a person is paying almost $2.00 per minute!  We pay because we know they are valuable, but please, make sure all the minutes count.
Many parents have told me that at times, they have been at fault for wasting minutes talking because they were with kids all day and craving another adult interaction; however, regardless of whose fault it is, always try to stay professional and keep the focus on the child.
Don't blurt out suspicions, concerns, or think out loud.  However, do make sure you make referrals and not withhold information if you feel there are additional concerns that need to be addressed.
Parents have reported that therapists have flippantly mentioned apraxia and turned their world upside-down unnecessarily, only to find out later it was in fact, NOT apraxia.  In a different scenario,  I have had parents upset that an SLP never even mentioned apraxia, and now they were just finding out years later, distraught, worried, and feeling guilty they had not done something sooner; and in yet another scenario, a parent has told me her SLP casually mentioned a serious diagnosis like apraxia frequently without ever moving forward with a different treatment plan.
As an SLP, you have a responsibility to relay a suspected dx in a responsible manner; and if you don't know what to do, it's your job to figure it out or make a referral.  There are so many more resources available now including apraxia-kids.org or ASHA's practice portal.  We are counting on you!!
Don't start planning your lesson when you enter the house. Do have a plan heading into therapy.
Look, as an SLP I get it. Planning time isn't exactly built into our pay.  Also, it can get overwhelming to carry a bunch of materials from house to house.  Shouldn't we be teaching the parent how to use toys in their house?  Yes, that's great, but you should STILL have a plan whether it's using a child's toys or your own.  Nothing looks more unprofessional than spending five minutes letting the child decide what toy or game to play. Remember my previous comment?  The parent just paid you almost $10.00 now just to plan the lesson and get started.
If you are in early intervention, some of your time might be for planning and writing notes.  If so, please explain that to a parent before-hand so they aren't thinking you are deliberately short-changing a session.
Don't continually cancel or run late.  Do respect people's time and schedule, and refer out if you are unable to be a consistent provider.
Okay, first of all, if you are consistently late or cancel a lot, you make the profession look bad.  However, even more important is that you are not helping the child the way you should when you do this.  Be conscientious, and if you are frequently late and/or cancelling, refer out.
A parent also told me that a quick apology is nice, but an entire explanation is not necessary.  Parents do understand if you are late sometimes.
Don't assume parents aren't worried, involved, invested, or not working with their child. Do provide resources, assume the parents are doing the best they can with the knowledge and tools they have, and that they are worried and just want the best for their child.
I had a post last year entitled Nature Versus Nurture.  In it, I beg SLP's not to assume nurture played more of a piece in a child's language delay.  This is especially true for apraxia of speech.  I'm an SLP.  A pediatric SLP.  My daughter has a great language rich environment, and not only that, I DID work with her almost every night on speech.  Guess what?  She STILL had apraxia and continues to have a persistent receptive/expressive language delay.
Parents are human too, and might not have the background we have in child language development. Please do not assume though, that they don't care.  Even parents who seem like they don't care, care….trust me.  If you are there, it's because they care.  They had to make the phone call after all.
The best thing you can do is not only to provide therapy, but provide them with resources.  Some parents may not use the resources, but I think it's our job to provide them.  Give them articles, handouts, point them to online resources, support groups, walks, conferences, etc.
Most of all, DO realize you are appreciated and valued more than you may ever realize.  Helping a child get their voice is one of the most amazing things I think we do as SLP's.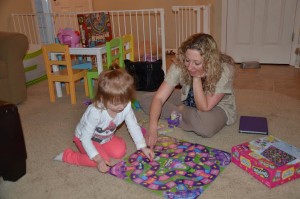 Thank you to all the parents who added their feedback to this article.  
LAURA SMITH M.A. CCC-SLP IS A SPEECH/LANGUAGE PATHOLOGIST IN THE DENVER METRO AREA SPECIALIZING IN CHILDHOOD APRAXIA OF SPEECH.  CASANA RECOGNIZED FOR ADVANCED TRAINING AND EXPERTISE IN CHILDHOOD APRAXIA OF SPEECH, SHE SPLITS HER TIME BETWEEN THE PUBLIC SCHOOLS AND THE PRIVATE SECTOR.  SHE IS DEDICATED TO SPREADING CAS AWARENESS. HER PASSION IS FUELED BY ALL OF HER CLIENTS, BUT ESPECIALLY HER OWN DAUGHTER WHO WAS DIAGNOSED WITH CHILDHOOD APRAXIA OF SPEECH.  FOR MORE INFORMATION VISIT SLPMOMMYOFAPRAXIA.COM