There was an Old Lady Who Swallowed Some Snow: Book Companion/Activity Pack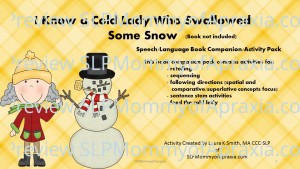 As we move into January and I'm spending some time off during my winter break snowed in, I decided to create a follow up companion pack to my most popular companion pack to date, which was "I know an Old Lady Who Swallowed a Bell."
This is a similar repetitive story named, "There was an Old Lady Who Swallowed a Bell."  This companion pack follows a similar format:
I start with blown up pictures to aid in story participation.  When I'm in a group, I give each child a picture and then they are to read that "part" of the book when it comes up.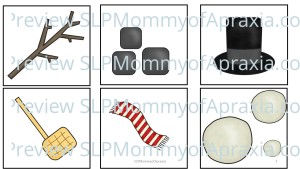 Afterward, they take these pictures and "feed" the lady the items.  I have this blown up picture glued to a manila envelope with the mouth cut out.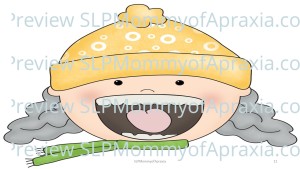 Next I have a story pictures and sequencing grid to have the children sequence the story and then have the option of visual aids to use for the story retell.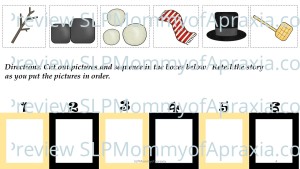 I did a following directions activity focusing on comparatives and superlatives.  The directions ask the child to circle the smallest coal lump, or draw a line above the largest snowball etc.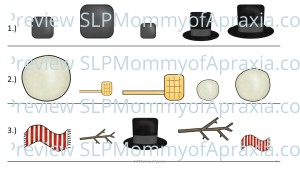 For an added challenge, I included an additional page to work on temporal concepts.  Directions include things like, "Before you touch the smallest coal lump, touch the largest hat."
Finally, I included 3 sentence stem worksheets.  "She saw…." "She has….." "She ate….."
To get this activity, please visit my TpT store at: SLPMommyofApraxia.  Stay warm!