I Know an Old Lady Who Swallowed a Rose: Speech/Language Book Companion/Activity Pack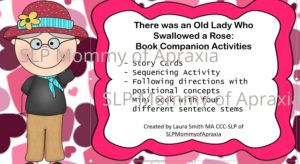 She's baaack!! My students just LOVE these books.  Here is my latest speech/language book companion activity pack.  Since I LOVE repetitive stories for speech and language, it once again contains:
the repetitive vocabulary pictures from the book
a sequencing grid to practice sequencing and to aid in story retell
a following directions activity to cut and paste using positional/spatial concepts
a four page mini book to practice the carrier phrases: she has, she saw, she wants, & she ate + book vocabulary pictures
an enlarged picture of the old lady to glue on a manila envelope or cereal box and "feed her" the vocabulary pictures.
To find this activity in my TpT store, click here. Happy Thanksgiving!