In the Zone: A look at Camp Speech Zone in NY
Adventures mother and son in the city that never "seeps"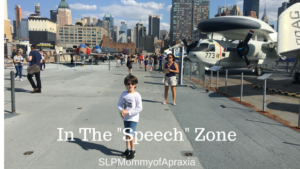 By definition, "being in the zone" means that you are so happy or excited because you are doing something easily and with skill. It's really about having your thoughts flow easily and creatively with regard to art, music, design or invention. It's the achievement of a blissful and fulfilling state of mind. Some refer to this as "in the groove."   
Having grown up down the shore in the Atlantic City, NJ area, my personal experience with being in the groove had everything to do with summertime. For some reason, my happiness was directly equated to the sun on my back and the ocean's waves meeting my skin. I was in the zone on the boardwalk, on the beach and just relaxing on the front porch. I felt centered, content and at peace June through August (and still do!).   
I truly wanted this Zen-like feeling for my over therapized 7-year-old son, Brody. I wanted him to have a summer full of fun experiences, new friendships and exposure to things he's never seen before. That's why when I planned out his summer camp schedule, I included a week of Camp Speech Zone in New York City. Now, I know what you're thinking…Jami, that's still therapy…yes but the camp took place each day from 9:00am – 1:00pm. Which meant three things: 1) Mommy could explore the city. Meet up with old friends and chillax during the time that Brody was at camp (73/Broadway…um hello Bloomingdales outlet) 2) Brody could make new discoveries during the afternoon and evening hours with me 3) there would be continuity of services even though we were technically "away.". This was a surefire win-win situation. While our Big Apple adventures only lasted a week, it seemed like just the right amount of time to embrace that change of scenery. I was also curious if Brody would respond to new faces and new demands in a brand-new setting.  
Last April, I discovered Camp Speech Zone on the Casna website when researching potential camps for children with Childhood Speech Apraxia. I quickly set up a GoFundMe account to be able to afford this expedition. I was also fortunate enough to stay at my cousin's apartment on the upper west side while they were vacationing in Maine. The universe was sending me messages! I raised the money, signed Brody up and we set out on our adventure. And yes, those consonant blends are challenging for Brody so it is now known as the city that never seeps (LOL). One thing's for sure, I began to notice more vocabulary seeping into his repertoire throughout our time there – true story.  
Speech Zone is dedicated to providing personalized services in order to best serve children with various needs. They provide a fun and super supportive environment while giving your child the necessary skills for success. The exceptional quality of their facility, services and knowledgeable and caring staff truly sets them apart. Their speech-language pathologists and occupational therapists work meticulously together to ensure that your child is reaching their full potential. They also collaborate with other specialists and related service providers to promote generalization of skills in other settings. 
Programming featured themed weeks including Sports Week, Ocean Animals, and all things outdoors. Brody arrived at the beginning of Transportation Week which he really enjoyed. The camp also features outings to Central Park Zoo, Museum of Natural History, Riverside Park and more!  Brody was exposed to a New York City Style Super Market experience which he also really loved. The camp provided plenty of access to language-rich environments. While the focus was on speech-language and occupational therapy, the focus was also on fun. The staff was committed to making all the children (and nervous parents) feel comfortable. And it was really great to see some familiar parental faces in the waiting room from having been to the CAS Conference in Chicago a couple years back.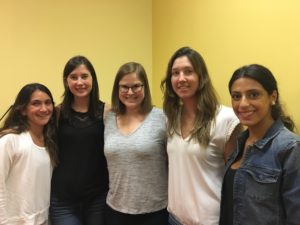 When our week concluded, I asked Speech Zone's Melissa Weiss, MS Ed, CCC-SLP, TSSL. to answer a few questions so that other moms and dads could learn more about this extraordinary camp. Big thanks to her for taking the time to respond in the name of informing other warrior parents!   
What is unique about Camp Speech Zone that other camps do not offer?
The camp is run by two certified speech language pathologists and a certified occupational therapist. In addition, we have dedicated interns with us all summer who are studying speech and occupational therapy at both undergraduate and graduate levels. Prior to registering for camp, we screen each child and meet with their families to ensure that CSZ is the right fit for their child and their needs. Our camp has included children with a variety of diagnoses such as: Apraxia of Speech, speech sound disorders, Autism, receptive and expressive language delays, Cerebral Palsy and other developmental delays. The children benefit from having a small camp group with peers that are close in age and have similar communication needs. Both teachers and parents have reported that they have noticed a positive change in children's confidence and abilities. It is a supportive environment allowing children to work on their goals throughout the day without feeling isolated from their peers. The clinicians incorporate both speech and occupational therapy goals throughout the entire camp day. It is a great opportunity for the clinicians to see the child across all contexts and work on goals accordingly.   

Why should parents who have kids with Apraxia consider it?

The clinicians at Speech Zone are trained in PROMPT. The Prompts for Restructuring Oral Muscular Phonetic Targets (PROMPT) is a touch-based method for reshaping individual and connected sounds as well as sound sequences. This approach is effective in working with children diagnosed with Apraxia of Speech as it embodies neuro-motor principles. In addition, Camp Speech Zone discusses a variety of child friendly themes. Children diagnosed with Apraxia benefit from mass practice of target words, thematic vocabulary is targeted throughout the week at camp. 

What sort of activities do the kids do each day?
We start each day with a morning meeting to practice calendar and weather vocabulary. Daily activities may include: art projects, shared storybook reading, following directions, sensory activities (i.e., obstacle courses or tactile play), yoga, food prep for snack time and neighborhood outings (i.e., grocery store) which all reflect our weekly theme. We take a daily trip to the playground to provide opportunities for independent social skills as well as a movement break. During lunch and snack time, clinicians assist children that have feeding difficulties including food aversions and oral motor sequencing challenges.   

What are the weekly themes throughout the summer?
The themes vary based on the age and communication skills of the group. Past themes have included: introduction to summer, sports, community helpers, transportation, colors, science, animals, and space.  

Why do you love working here?
Speech Zone is a great place to work. We work with such wonderful families and children that make coming to work a pleasure. The staff has aligned beliefs in work ethic and therapeutic approaches, making it easy to collaborate and learn from each other. It is rewarding to see the progress each child makes throughout the summer.  

What other services are offered at speech zone?
Speech Zone offers individual speech and language therapy sessions as well as individual occupational therapy sessions. Occasionally group sessions are held at Speech Zone depending on the child's goals. We see children through board of education services, select insurance companies and private pay.  

What makes the camp so special?
CSZ is absolutely a labor of love. We originated as a camp program to provide a therapeutic and educationally based environment for children who had a lapse in their school programs during the summer. Families had expressed a need for a structured setting for their children. The children that attend Camp Speech Zone benefit from knowledgeable and professional staff as opposed to larger camp groups with inexperienced counselors who may not be familiar with their specific needs and abilities. Our staff is well equipped to design activities targeting a range of goals and modify activities accordingly. Since starting camp five years ago, we have grown to a full summer program which targets a variety of speech and language needs as well as developmental delays. 
As I mentioned, my strategy for spending a week in NYC wasn't purely to have Brody attend this amazing camp. Our afternoons were spent exploring this iconic city and being immersed in urban culture. We visited Hippo Playground/Riverside Park, Central Park (including the penguins at the CP Zoo), and Serendipity 3. We took a double-decker bus ride (and went live on Facebook) and visited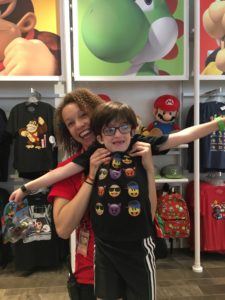 the Intrepid Sea, Air and Space Museum. We indulged in experiences at Times's Square's Disney Store, The Lego Store and the Nintendo Store. The Nintendo Store (Brody can say the word "Mario" very clearly!) went out of their way to create a special experience for Brody. All of them were over-the-top incredible. We ate new foods and visited new people in fancy apartments and where ever we went I repeatedly heard: "Wow! Look! Mommy I like that!" – and these verbal outputs were merely the cherry on top of our big city sundae. If you'd like more information on fun stuff to explore with kids in NYC, a good resource is mommypoppins.com.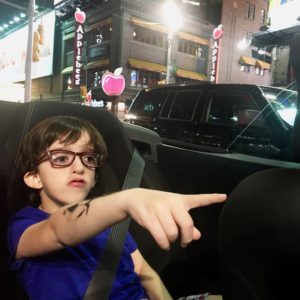 By far the best thing we did with Brody was to take him on a car ride around Times Square. We did this at night with the top down on a rented convertible and it was absolutely priceless. I highly recommend it! No kid can keep quiet with the intensity of the lights and cool things to see for the first time!
For more information on Camp Speech Zone, visit speechzonenyc.com or call them directly at 212-799-1750. You can also email them at speechzonenyc@gmail.com and follow them on Facebook.   
If you are considering sending your child to Camp Speech Zone next summer and have questions for me, please feel free to reach out to me via email at jamislotnick@me.com. And remember, there's a big world out there. Exposure to new experiences are by and large highly motivating. Get out there and explore a new city. It doesn't have to be New York!  
Jami Slotnick  
facebook.com/jami.slotnick
 
Author's Note: I have not been compensated or sponsored in any way by Camp Speech Zone or any of the NYC destinations mentioned in this article.