CASANA Conference take-aways 2017
The apraxia conference is ALWAYS emotional, inspiring, overwhelming and amazing. This is my 3rd, and I can say I am still pretty tired and exhausted by the end.
This year it seemed I was busy on all the breaks, but it's a good busy. This is my passion and this is where I belong.
During a couple breaks, I signed up to do the "SLP Is In" booth, which is a booth manned by CASANA apraxia intensive training graduates (bootcampers) in which people can sign up and get individual advice from an apraxia expert. I love connecting to people in person, and being a mom of a kid with apraxia, I get the double bonus of relating to them on a personal level but being able to help them on a professional level. One mom asked me some questions, and then broke down that she was sad her son wasn't making any friends. She gushed about what an amazing kid he was and easily described all his great qualities. She started to apologize but then realized I get it. That's the thing about this conference, you can let all your feelings out and you're not going to be judged. Even better, is the person you are talking to is probably going to say "me too." "I understand."
Speaking of letting your feeling out, Michelle Leigh of Apraxia Momma Bear and I facilitated a parent involved seminar in which we were truthful and honest about our personal experiences with apraxia: the good, the bad, and the ugly. It went exactly as we envisioned it, with parents opening up about the challenges, sadness, conflicts, and hardships that come with it in a space where everyone nodded their head or offered their own personal advice based on similar experiences. We hope we helped even one more parent feel a little less alone, heard and/or understood.
This year I went to topics pertaining to older children and the issues accompanying them now, including executive functioning issues (memory, organization, attention) along with reading and learning disabilities and picked up a lot of good tips. I was live posting them on my fb page for anyone interested.
My absolute favorite talk though this year was from Alyson Taylor of "A Girl with a Funny Accent" and her mom. Alyson is a young adult woman who grew up with apraxia when many people really had never heard what it was.
She was as outgoing, inspiring and funny as her mother was real, raw, and honest. They were the perfect juxtaposition and I can't rave about it enough. I hope they speak again!
One evening was the donor reception. Donors and people like walk coordinators who volunteer a substantial amount of time to raise money for CASANA are invited as a thank you. The faces I know are becoming more and more common the more involved I get with CASANA. With big changes that happened this year with the founder stepping down as executive director, it's been tough; but you meet this small 10 member staff doing amazing things for our kids with apraxia across all of North America and my commitment to the organization and what it stands for is reaffiemed easily time and again. The interim executive director reminded us of all CASANA is accomplishing and left us with the sentiment "we are small but we are mighty."
I always seem to have a moment where I am standing next to someone I know, but don't realize I know them. This year it was with a woman named Kay Giesecke. She created the "apraxia checklist," which I hadn't heard of until recently when a parent private messaged me and asked me if I had heard of it.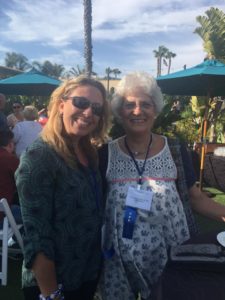 I immediately recognized her name and started chatting about her checklist. I found out that she has a summer reading intensive camp for kids with apraxia called "Apraxia Ranch Camp," and that she accepts 3 practicum students and 3 SLP's to come and learn. The camp is for elementary school age children only and costs $950 which includes housing. That's a pretty great deal. More can be found at Apraxiaaustin.com.
Finally, as a speaker, I signed up to do the speaker raffle, in which parents buy raffle tickets and try to win lunch with a speaker. I love this again because it's an opportunity to talk directly to people in the community. This lunch I had was with a couple from Utah. It always starts a little awkward as people get to know each other by eating which is never uncomfortable, lol, but by the end the room is loud with everyone fully warmed up asking their questions.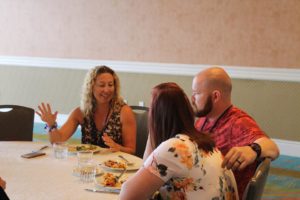 Last but not least was I finally got to bring Ashlynn. She always asks me who I talk to, who is an SLP and who are the clients. She couldn't wait to meet everyone and everyone is always so warm, welcoming and inviting. I'm glad she has an apraxia family. She will need them and gather strength and inspiration from them when she faces challenges. I know she will have a place to go that she won't have to seek out in which all these people will tell her "me too. You're not the only one."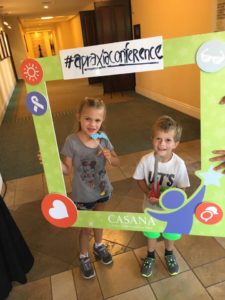 This conference, if anything is that exactly. You're not the only one. I never believed when Ashlynn was dx that there was another SLP out there who had a child with apraxia, and I just met another one at this conference. She told me she was so grateful for or fb group because she never has to feel alone and she knows we all get it. The other SLP mom said it's her favorite group. That makes my heart smile soooo big. SO big. I never wanted anyone to feel like I did in those early days, wanting so desperately to find another SLP going through this, and now, they don't have to. We have a whole group to hold out their arms, smile, and say,
"Me too. You're not the only one."