Them some big holes to fill: A tribute to Sharon Gretz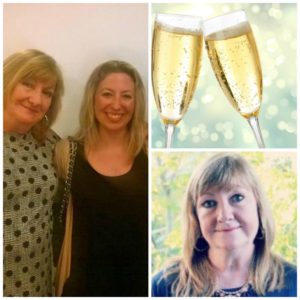 I cried last night.  Not just a few tears either.  Big, ugly, chest heaving tears.  I think my husband was a little taken aback.   It's not that's he's never seen me cry, but it's not very often and it's usually because something really big happened.  They can be happy or sad tears, but the events that inspire a full on cry have usually been big, like the birth of our children, Ashlynn's dx of apraxia, or the time I thought my Grandma was dying.
"Sharon's leaving!!  She's stepping down from CASANA."  I wailed.
In case you don't know, Sharon Gretz is the founder of the Childhood Apraxia of Speech Association of North America (CASANA), the non-profit I now work tirelessly to promote.
"What's the point in being the walk coordinator now???" I demanded at Cody.
"Laura, it's not like CASANA is going away is it?"
I shook my head and managed to get out they are hiring an interim executive director until a permanent one can be placed.
"What will we all do????  She helps all of us.  ALL of us.  Who is going to care that much?  Who is going to answer all of our questions in the facebook group, and if they do, who could possibly be as knowledgeable as her???  Who could possibly be as selfless as her?"
I told you friends, it was a big, ugly, irrational, downward spiraling cry-fest.   At the very least, I think my dear husband finally understood why I do as much as I do for apraxia and CASANA now.  Not that he didn't before, but it's just, I don't think he realized why I was 100% all in.
I first had indirect contact with Sharon before Ashlynn was ever born.  I was a new SLP working in the schools and a Kindergarten boy showed up on my caseload nonverbal.  One day he named all the letters of the alphabet, but he could not string any sounds together intelligibly to save his life.  I remembered as an SLPA helping my mentor treat a kid with apraxia, and I immediately was suspicious.  I googled it and found apraxia-kids.org.  I found "start here" articles on how to treat CAS, printed them out, and changed my treatment plan.  He said his first words that year to his dad.  That family thanked me, but little did they know, CASANA (Sharon) changed the path for their son.
It's difficult to say, but CASANA and Sharon are almost synonyms in my mind.  It's not true of course.  CASANA has an amazing staff, but I can't help but think even they wouldn't exist had it not been for Sharon.
The next time I had contact with Sharon, it was direct.  Ashlynn had just been diagnosed with CAS and I found a parent group on facebook.  Every time I posted a question, Sharon would usually respond.  They were always the type of response that makes someone sit up and listen, because this "Sharon Gretz" really seemed to know her stuff.  I had no idea for quite some time she was actually the founder and executive director of CASANA who would answer me and countless other parents, sometimes at night during her free time, to help us and give us support.
After a few months CASANA announced they were having their national annual conference in Denver. Sharon encouraged everyone from the facebook group to come and say hi to her.  I bought my ticket and showed up with my husband.  I remember being sooo nervous.  Oh my gosh, the woman standing there was amazing.  She had a child now resolved with CAS, founded a non-profit, and basically knew everything about apraxia there was to know in the world right now.  What would I say to her?
I've written about it before, but I will never forget.  She encouraged parents to put a picture of their kiddo in their badge and she pointed it out as we were talking.  She genuinely cared about my kid and wanted to know about her.  I started embarrassingly pouring out my heart to her.  I had tears in my eyes and was looking down the entire time.  When I looked up she had tears in her eyes too and was staring right at me.  She gave me a hug.  I've never felt more understood in my life.  I had all this guilt about being an SLP and my daughter having apraxia, and I had no other person I knew in my position.  She was the closest because she had a doctorate in speech and she relieved me of so much guilt in that moment.  I had found my people.
From there I had a face to the name.  Every time she responded to a post on facebook I was in awe of her dedication, compassion, and genuine love for all children with apraxia.  She was the first person to cheer anyone's success story, no matter how big or small.  From a child saying "hi" for the first time to a child learning to read, Sharon celebrated them all with the parent.  I tried for awhile to follow every post and do the same, but there are a lot of people in that group now, and it was very time consuming.  I had a deeper appreciation for Sharon.  This wasn't a job to her, this was truly a vocation, and it wasn't just the facebook group.
CASANA funds needed research so we know what treatment approaches are best and most effective for kids with CAS, which is important because traditional treatment approaches for speech will not work for CAS.
CASANA has set up a network of support for families via the facebook group.
CASANA funds iPads and therapy for kids with apraxia to help families crippled by the cost of therapy which is usually not covered by insurance.
CASANA provides education to professional SLP's who never received the right training in grad school (despite thinking they did) to treat this rare but treatable severe speech disorder.
CASANA helps set up walks nationwide to honor our kids.  They receive medals and are rewarded for all of their hard work that no one else recognizes but their family, therapists, and teachers.  They get to meet other kids like them, and know they are not alone.
CASANA is more than Sharon, but she is the heart.  She is…or now was.  Change is hard and the unknown is scary.  It felt like the heart of CASANA died when I read that announcement, but after my ugly cry I'm rational once again and I know my husband's right when he says she put all the supports in place.  We are not left without.  We have a network of people for support.  Research will continue.  Walks will continue.  Education will continue.
I know it will, but it still makes me sad it's without Sharon.
Sharon epitomizes the quote "Be the change you wish to see in the world."  She never wanted anyone to go through what she went through with her own son, which was lack of resources, knowledge, and awareness of Childhood Apraxia of Speech.
Someone wrote "What a legacy!" and yes it is.  Through it all Sharon,  you remain one of the kindest, most humble people I have ever met.   That will never be replaced.  You have accomplished more in 17  years than other people could hope to do if given two lifetimes.  What a blessing you are to us, to this Earth, and especially to your son, who will one day realize the extraordinary (and I mean EXTRAordinary) love of his mother.
Sharon, when I was floundering under water, you pulled me and countless others up for breath time, and time, and time again.  Eventually I found my footing on dry ground, and knowing I could never repay you, I resolved to work tirelessly for CASANA and for kids like mine who deserved a voice.   I will continue to do so, and pay it forward to every parent who crosses my path, because I know what it's like to literally feel saved by one person who just took 5 minutes of their time.
You are a living, breathing example of all of my favorite quotes that I'll share below.  Let's have a toast.  Raise your glass.
Here's to you Sharon.  May you find some peace and relaxation.  When you close your eyes to sleep, may your dreams be filled with the satisfaction of knowing you not only helped your son, but in doing so, have set up an infrastructure to ensure every child like him has the opportunity to find their voice.  May your next journey be filled with blessings.  Most importantly, don't stay a stranger.  Remember to come back and visit.  We are your people.