Apraxia would have destroyed me
I often think about what would have happened had it been me who had apraxia, dyspraxia, SPD, dysarthria, and a learning disability when I was young.  It's pointless I know, but I was/am a perfectionist.  That's not a good thing.  I learned early I was really good at spelling, reading and writing, but math I had to work for.  I won a math award in 3rd grade and I looked at the teacher, Mrs. Plummer,  like she was crazy.
"I'm not good at math.  Give this to Keith or Jimmy."  She maintained I was good at math, but I didn't believe her and I never cared about that award.  I knew what I was good at, and it wasn't something I had to work that hard to do well.
I think about that because Ashlynn has to work at everything to do well.  There's not like one thing that comes naturally to her….well actually social skills do, but she's behind in that too only because of her other issues.  I had to work at math so it made me mad and I didn't want to try, despite the fact I could do well.
Her disability would have destroyed me.
She has the best of my husband's personality THANK GOD.  She doesn't get embarrassed, she attacks everything, she'll try anything, and she'll never give up until she conquers it.  That's a page straight up out of her daddy's book.  She's in a first grade performance Tuesday, and I was watching the practice with the art teacher.  I said the songs were hard for a kid with a speech problem (bear necessities, supercalifragilisticexpialidocious) and the art teacher smiled and said she loves Ashlynn because
she just goes for it.  I smiled.  It's true…she does.  She always has.  I can still cry thinking about her preschool observation where she couldn't jump on the trampoline so she smiled and marched instead.  All the kids were encouraging her to jump like them….
and she couldn't bear walk so she hung across a teacher's arm upside down to at least get a feel for the movement….still smiling.
When she rode her tricycle and couldn't pedal she never stopped trying……and not only trying, but smiling. Oh, and guess what.  She learned all these skills eventually, on her own time.  She walks, she runs, she jumps, she bear walks, she skips!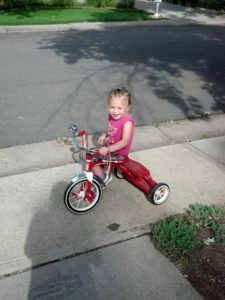 She puts me to shame.  She puts that third grade girl who decided math wasn't her thing to shame.
Well not anymore.  I'm not sure anyone becomes a parent to be inspired by their child, but she has inspired me and made me better.  There are things I do now I would have NEVER attempted.  Every time I'm scared or nervous, I think about Ashlynn.  One year on a camping trip everyone was cliff diving.  I was terrified as I stood on the cliff, but I thought of Ashylnn and I'm on video jumping and while I'm in the air you can hear me say "for Ashlynn."
Tonight we were watching "Zootopia" and a song came on "Try Everything."  Ashlynn started clapping and dancing around the kitchen.  She always dances like no one is watching.  Isn't that phrase people have to try and follow?  Well, Ashlynn just lives it.  It's her essence.
So I started listening to the lyrics and I'll be damned if this isn't that girl's theme song.  I downloaded it immediately.  (I'm also admittedly a Shakira fan so I was hooked anyway).  We put it on outside and her AND Jace were going crazy.  It's a great song.
"I messed up tonight, I lost another fight
I still mess up but I'll just start again
I keep falling down, I keep on hitting the ground
I always get up now to see what's next
Birds don't just fly, they fall down and get up
Nobody learns without getting it wrong

I won't give up, no I won't give in
'Til I reach the end and then I'll start again
No, I won't leave, I wanna try everything
I wanna try even though I could fail
I won't give up, no I won't give in
'Til I reach the end and then I'll start again
No, I won't leave, I wanna try everything
I wanna try even though I could fail

Look how far you've come, you filled your heart with love
Baby, you've done enough, take a deep breath
Don't beat yourself up, don't need to run so fast
Sometimes we come last, but we did our best"
So many times she has come in last but she gets back up and tries again. As a witness to this strength I have no choice but to do the same.  Look how far you've come, but don't keep looking back.  Look up and I'll walk next to you guys through anything and I'll pick you up when you fall.