Our kids need to meet others just like them.
This 4th Annual Apraxia Awareness day (it was trending, did you hear?), I organized a fundraiser at a local Chipotle to benefit the Walk for Childhood Apraxia of Speech.  I have a HUGE goal of 30K.  The walk last year made 16K, so basically I set this goal to double that.
I'm probably crazy, but I set that goal with good reason.  That number ensures a visit for a free parent seminar given by the executive director of apraxia-kids.org (CASANA).  I was the lucky recipient of her visit one year and it was amazing.  The previous walk coordinators had amazing connections and one coordinator raised thousands of dollars just from his connections.  I don't have anywhere near those connections, so I'm trying to do more fundraising activities to help raise money and get us closer to our goal.
We had a really good turnout yesterday, with around 50-60 people gathering in South Denver.  One mom even drove close to an hour and half to be there, because she wanted to meet other parents in her shoes going through the same thing.  Social media has made it so we can connect with other parents and families, but of course, there is something different to have a face to face connection with a person who truly "gets" you.
Last night was interesting, because the kids with apraxia seemed to become instantaneous friends.  You could honestly not help but notice them gravitate to each other and form an immediate kinship.  They were holding hands and had created their own "walk for apraxia" by walking continuous circles around the tables. There was chatter, but there was more laughter, smiles, and pure happiness.
I was surprised to see a bossy side to my daughter Ashlynn.  Most girls her age have a bossy side, but Ashlynn is always the follower at school.  She has friends and is well-liked, but she is far from being a leader.  You wouldn't have known it last night.  She was telling people to hold this hand and to walk this way.  She was sweet and smiling of course, but still bossy.  I told one young client of mine to tell her stop being so bossy.  He looked at her and told her "no" through a smile, and she laughed and moved on, only to return again requesting him to follow her.
The mother of a second grade client came up to me and told me that her son listened attentively to all of the kids and had a look on his face that seemed to say "ohhhh, I get it."
And that's when it dawned on me.  Here we all were, parents, networking with other parents.  Happy to talk and chat to others going through similar experiences.  An instant friendship is formed between the parents.  Without saying anything, everyone seems to understand you so perfectly, and I realized…as I watched smiling face after smiling face, and small hand locking another small hand……that the KIDS had formed their instant connections too.
A famous actress Gage GoLightly shared a facebook post spreading apraxia awareness thanks to my friend and fellow apraxia advocate Michelle Leigh who discovered it on wikipedia and succeeded in bending her ear.  Anyway, her post outlined how she grew up with apraxia and dyspraxia, but implored people:
If you know someone in school, or work who has apraxia, or dyspraxia- make today the day to reach out and just talk to them. Underneath everything in the end we are all just people. We all have our unique challenges and special qualities that make everyone incredible. Love and acceptance are what make this world beautiful. Reach out and be apart of the beauty.
I realized it's important these kids meet other kids with apraxia.  That they not only meet them, but get a chance to interact with them.  We need it, why wouldn't they?  I love a quote by C.S. Lewis I reference frequently in my apraxia journey: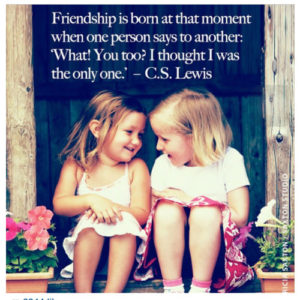 No one could deny the instant connection these children had.  lt made me realize they need to get more opportunities to meet others who have the same disability.  It was absolutely beautiful to witness.  I wish I had taken more pictures.  I probably only captured a third of the kids holding hands with each other.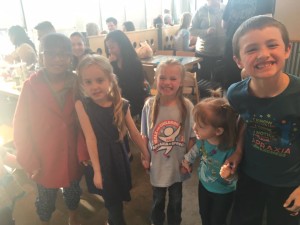 I'm urging you all for so many different reasons to get out and support the walk, go to the walk, and participate in the fundraisers.  It's for so much more than raising money.  If you don't believe me, just look at the smile on your child's face when they can also finally meet another and say without words, "me too."  As Gage said, "reach out and be part of the beauty."